About your hosts
Theatre and Film/TV professionals will find a warm and comfortable welcome with high-quality accommodation and all the amenities you expect while you're working away from home, run by a former professional actor and producer Rob and his partner. We're friendly, open and always try to create a relaxed atmosphere for our guests.
Our ethos
We'll always try to help you where we can. We aim to create an environment where the particular demands of your profession are well understood from long experience. Our accommodation is 100 % Gay and LGBTQT+ Friendly (gay owned and run). We are also registered hosts on theatredigsbooker.com.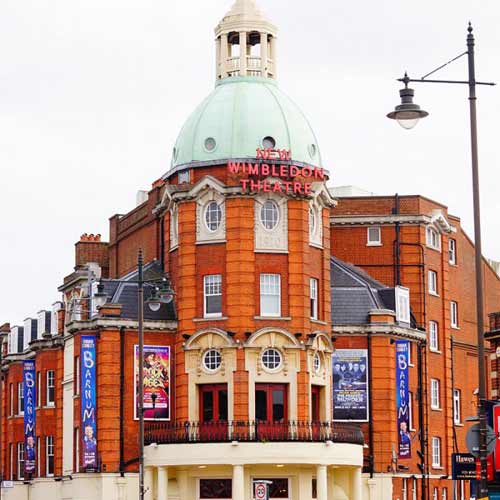 How to book
Contact LondonTheatreDigs.com
to book our London accommodation for actors, musicians, theatre professionals and production crew, film crew and TV production professionals
Check our Availability Calendar and please email us with your requested dates and room. Our preferential tariffs are exclusively available to theatre and film industry professionals. We do accept bookings for full season or feature shoots over several months, or West End runs, subject to availability. We look forward to hosting you soon!
En-suite Loft Room>
Single Occupancy: £35.00pn / £200.00pw
Double Occupancy: £55.00pn / £320.00pw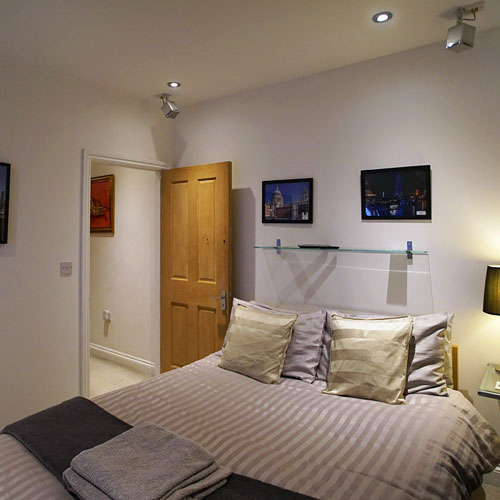 Guest Room One
Single Occupancy: £30.00pn / £180.00pw
Double Occupancy: £45.00pn / £275.00pw
Our guests say…
There's nothing as telling as guest feedback and we're so grateful to our many guests who have taken the time to leave reviews so you can read other people's experiences of staying in our London theatre digs. They did contact LondonTheatreDigs.com, have all stayed here and here's what they have to say. Thank you all, and hope to see you again soon!
I have to say this is the best place to stay in London! I'll be back soon! Always been fantastic hosts! Thank you!

Leon Craig (Sandra Bollock)

Everybody's Talking About Jamie, Apollo Theatre, London West End
I was working at 3 Mills Studios on The Great Season 1 and found the commute no problem at all.

Rai Waldron

Production Accounts The Great Season 1, Hulu, Oct 2019 - Mar 2020 & Jul 2020
"Had the best stay! Thank you so much for your amazing hospitality and hosting! The house is stunning!!!! Own spacious double room and fabulous shower too!"

Leon Craig (Babak & Genie)

Disney's Aladdin, Prince Edward Theatre, London West End
It was lovely staying with you...You were a pleasure to be around and I would love to come back with you. If the space is still available I'd love to book again...

Blaise

Jurassic World: Dominion production crew, Aug 2020
Wonderful stay! Stayed in the Loft room and had everything I needed and more. Thanks again!

Kirsty MacLaren (Chava)

Trevor Nunn's Fiddler On the Roof, Menier Chocolate Factory, London
Lovely hosts and cannot do enough for you. Easy to get into town using the tube.

Kirsty MacLaren (Manda)

Our Ladies Of Perpetual Succour, Duke of Yorks Theatre , London West End
Beautiful house and you have made me feel so welcome.

Olivia O'Brien

TV Location Manager shooting series around SW London, Zone 3
"Couldn't recommend your place enough!"

Lewis Griffiths, (Johnny Castle)

Dirty Dancing UK Tour New Wimbledon Theatre & Phoenix Theatre West End
Thanks very much for letting me stay. Everything was great.

Gerry

SFX technician, Talkback, Wimbledon Film & TV Studios
Thank you so much for having me to stay in your fantastic home! Thank you for being great hosts.

Ross

LX, Phantom of the Opera, Her Majesty's Theatre, London West End
"...fantastic hosts...close enough to the underground which meant I could get into central in around 30-45mins. The room itself was lovely and homely. If you are looking for digs while working in London I 100% recommend..."

Simeon

Snow White cast, London Palladium Theatre, London West End
I had the Loft Room and it was extremely comfortable and spotless (as was the whole house). I felt very welcome and my 5 weeks there were a pleasure.

Lynda Rooke (Mrs Reed)

Jane Eyre, National Theatre, London
Only a 10-minute walk from Colliers Wood station...put together to a very high spec. I would definitely recommend these digs for anyone performing in London.

Victoria Bewick (Mayella Ewell)

To Kill A Mockingbird cast, Barbican Theatre & Richmond Theatre
Was such a pleasure staying here, all facilities are immaculate and modern. Lovely people and I look forward to staying again in the future.

Romayne Andrews (Rosencrantz)

RSC Hamlet UK tour, London
Gorgeous accommodation, immaculate and friendly. Excellent value for money when staying in London.

Claire

LX, Royal Shakespeare Company, Barbican, London
I wouldn't hesitate to stay here again and it was a really easy journey for me to 3 Mills Studios which took about an hour! Thank you for being so accommodating!

Laura M

Mary Poppins UK tour, tour prep and rehearsals at Three Mills Studios
I've had a wonderful time in your lovely home. Thankyou for being so accommodating.

Kay

Wardrobe, Strictly Ballroom The Musical, Piccadilly Theatre, London West End
Absolutely wonderful digs for theatre professionals. Beautiful, modern and clean with the most lovely hosts...Couldn't recommend more!

Ben Mundy

Annie UK Tour, Wimbledon Theatre & Fairfield Halls
Thank you for making me feel so welcome…

Tom Robinson

Master Carpenter, Fantastic Mr Fox, Lyric Theatre, Hammersmith
I was well looked after the rooms were perfect and they put up with my late nights and early mornings! Would definitely stay again!!

Toby

LX, Ghost UK Tour, Wimbledon Theatre
Brilliant digs. Would 100% recommend to anybody lovely and comfy. Everything you could want from digs.

Ben Bazeley

Swan ensemble, Matthew Bourne's Swan Lake UK Tour, Wimbledon Theatre
We had a lovely time staying...it was really easy to get to New Wimbledon Theatre...Thanks for having us.

Jack Jones (Swan ensemble) and Gemma Bishop (Wardrobe)

Matthew Bourne's Swan Lake, Wimbledon Theatre
They made us feel very welcome and at home. All the best!

Jack Jones (Dance Company) and Gemma Bishop (Wardrobe)

Matthew Bourne's The Red Shoes, Wimbledon Theatre
...easy going and accommodating, even allowed me to store my road bike throughout my stay. Their house has all the mod-cons one could wish for too!

Mark Stiven

Deputy Master Carpenter, Matthew Bourne's Sleeping Beauty, Sadlers Wells, London
Really worth the money...great landlords who made me feel very welcome in their home. I will not hesitate to book these digs again for my next visit to the London area and would recommend these digs to anyone else...

Jack Wigley

Automation, Matthew Bourne's The Red Shoes, Sadler's Wells Theatre, London
What wonderful hosts...(they) set the bar very high and this is an excellent standard. Their home is immaculate, warm and cosy. An excellent stay and highly recommended.

Neil

Tell Me On A Sunday UK Tour cast, Wimbledon Theatre
These digs are brilliant! I'd love to stay there again…They are clean, stylish, comfortable and have absolutely everything you need

Kristian Lavercombe (Riff Raff)

Rocky Horror UK Tour , Wimbledon Theatre, Feb 2019
My stay here was fantastic! The house is a stones throw from Wimbledon and Colliers Wood tube station which I found very useful for access to Central London.

Joshua Podbury

Sound No. 1, Cinderella, Wimbledon Theatre panto
Some of the best digs I've stayed in. Friendly hosts, up for a chat but yet also understand if after a long day you want to just go and be on your own etc!

Dan

Chicago UK Tour, Wimbledon Theatre
You have provided so many thoughtful elements to make staying a great experience. I would highly recommend you to anyone working at the New Wimbledon Theatre.

Andy Hockley (Grandpa Potts)

Chitty Chitty Bang Bang UK tour, Wimbledon Theatre
I was looked after very well and the accommodation was everything I expected and more. I can highly recommend staying here.

Kristal Hamson

Orchestra, Chitty Chitty Bang Bang UK tour, Wimbledon Theatre
Accommodation was nothing but perfection, I would happily stay and recommend to friends anytime. Thank you.

Shane Seal (dancer)

Keep Dancing UK Tour, Wimbledon Theatre
Absolutely wonderful to stay with. A lovely home in a great location. I'd stay again in a heart beat!

Daniel Barlow

Stage Manager, The Toxic Avenger, Southwark Playhouse, London
Greatly enjoyed my stay here, the room was immaculate as was the house, everything you could ask for. Thoroughly recommended!

Alastair Whatley (Teddy, and Producer)

Flare Path UK Tour, Richmond Theatre
The house was always kept at a high cleanliness standard and I was always supplied with fresh bedding, towels and most importantly COFFEE!

Rai Waldron

Production Accounts The Great Season 1, Hulu, Oct 2019 - Mar 2020 & Jul 2020
A wonderful welcome and stay. Comfortable, clean with all mod cons! A nice easy walk to Wimbledon. Thanks, guys!!

Kris Harding (Simon Zealotes)

Jesus Christ Superstar UK Tour, Wimbledon Theatre
The room and accommodation is fantastic. Can't fault it. Thanks very much…Really appreciate it and it was brilliant to be able to come back to such a clean, friendly, well equipped and comfortable house at the end of the day.

Gavin Sharpe

LX, Funny Girl The Musical UK Tour (London tour rehearsals),
Very well organised for guests...The Loft Room is of a very high standard...Definitely the top of my list for future London work.

Ian Preston

On location filming around SW London, Zone 3
Just to say thank you for welcoming me so warmly and making my stay most comfortable. I could not have asked for more...I'll book early next time.

Kelvin Towse

Musical Director, Blood Brothers UK Tour, Wimbledon Theatre
Thank you for such a lovely stay…I have sent you an email with my friend's details who would like to book with you also…

Kate Hoare & Andy Christie (regular guests)

Production crew, Rocky Horror UK Tour, Wimbledon Theatre
Lovely room with welcoming hosts. Easy to park at, and a 30min walk to the theatre, or £5 Uber. Would recommend to anyone.

James

Sound No. 1, Jackie The Musical, Wimbledon Theatre